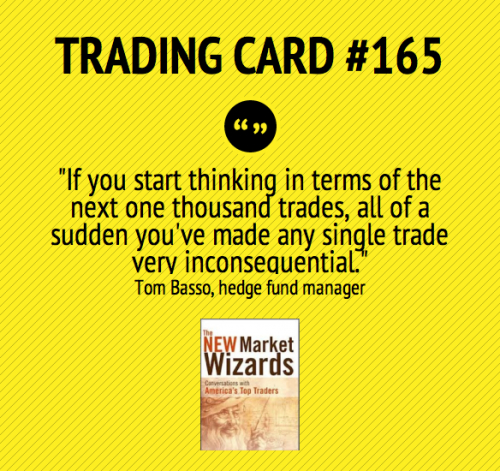 Thinking in terms of probabilities is probably one of the most difficult aspects of trading to overcome although just being aware of it can make it significantly easier. Overly emotional trading is by far the easiest way to the poor house with the very nature of trading being a very unnatural thing. Earlier in the week I spoke to Jon, a trader that's been around for some time, the mention of how the markets is almost the direct opposite you are to experience in any other line of employment came up. When I mentioned it Jon actually started to laugh before I had finished, clearly he knew what I was about to say along with the impact is has on us as traders.
In life its pretty standard for everyone to learn and believe "the harder you work the more you'll get paid" or "the longer you work the more you'll get paid". The very fact the world around people are paid for their time reinforces this. Trading on Betfair couldn't be any further from this belief. In fact its much the opposite, there are times where doing less will ensure your balance is bigger! I'm always saying it I know but it's about not losing as much as it is winning. The other great thing about trading Betfair is the it's definitely not time related pay or based around how hard you work, it's as hard as you make it. Mastering yourself and your emotions is one way to over-come this although a lengthy process.
A far easier way to approach things taking the emotions out and effectively 'de-sensitizing' yourself is to firstly know the patterns you're trading. When you do this consistently without fearing for any one specific out-come but actually realise over 1000 times of running the story you are in profit things can improve significantly (right clicking on the Market Navigator bar in AGT and hiding your balance can help this).
Each trade in our mind is like a little story, or should be. If you don't know how the story ends good or bad you're in trouble, much like people who set goals and don't make specific criteria mentioned in this post. So knowing exactly how it goes will help the emotional desensitization, to do this we will need to know 4 things:
Why are you even considering entering this trade? example: Particular horse is supported heavily in a weak race with low overall turnover. (always good to ask yourself before how confident you feel about it)
What do you expect to happen once the trade is open? example: it may revert a couple of ticks although longer term the move will continue within 30 seconds. (keep it specific, remember accepting it may dip against you is all part of it. Knowing this eases the potential fear factor).
When are you planning to get in/out of this trade, win or lose? example: When momentum increases/deteriorates, others are supported, race is nearing the off etc.
How are you are you planning to trade in the given situation? example: Open the trade in anticipation of a longer term trade (swing trade) but exit if the story significantly changes for the worse.
Having a rough idea of all of this in your mind each time you go to open a trade reduces the emotional attachment although ultimately 'doing whats right' instead of focusing on the numbers should bring you out the other side with some understanding of the markets. Forgetting about any specific result as the image above suggests and focusing on the 'story' of each trade is the most important thing, the best bit being when it goes wrong it doesn't then affect us emotionally in the next race we trade.
In my own trading I make plenty of mistakes but I'd say 90% of mistakes are a product of over-emotional sensitivity, particularly if there are outside influences. By knowing the story its easier to keep to any one trading strategy.